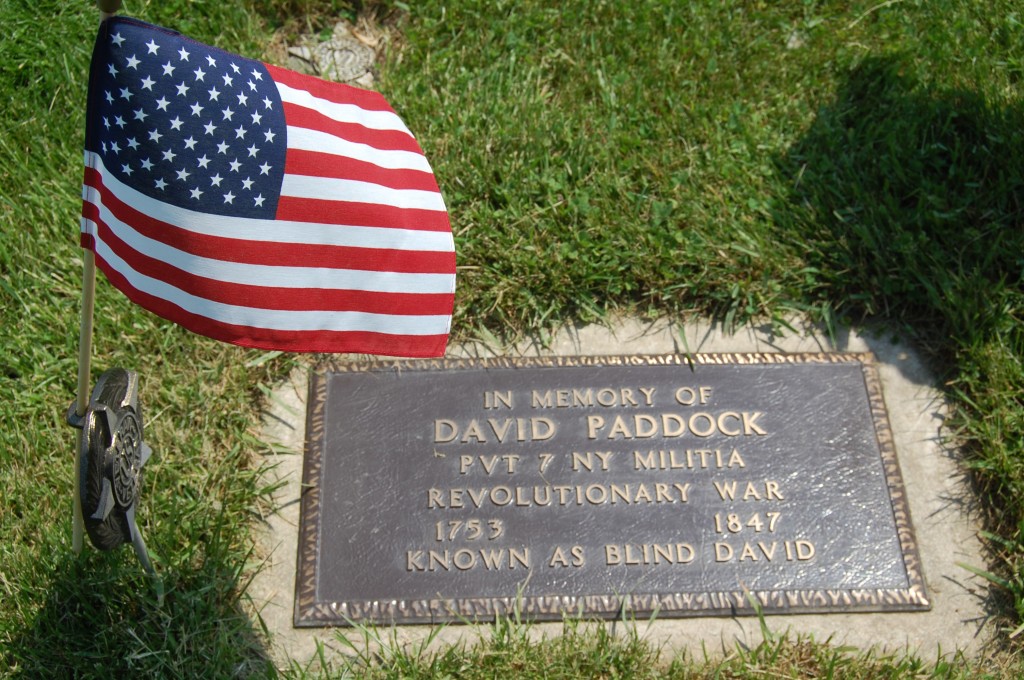 A marker honoring a Revolutionary War patriot who later came to live in Salem was dedicated at a ceremony Saturday at Liberty Corners Cemetery.
David Paddock was born in 1753 in New York state. He was known as Blind David after losing his sight from an explosion during the second battle of Saratoga and came to Western Kenosha County with his son in 1838. He died in 1847. His grandson, Dr. Francis Paddock, became a well-known local citizen and lent his name to the lake and village of Paddock Lake.
The ceremony was coordinated by the Wisconsin Society Sons of the American Revolution, which had a color guard at the cemetery.
The ceremony also included the reading of a commendation from Gov. James Doyle. Also on hand was a color guard from the Sons of Union Veterans of the Civil War and Auxiliary.
There were several Paddock relatives — including representatives of four generations — in attendance at the ceremony, which took place at the small cemetery along Highway 83 (Antioch Road) , south of Highway C.
Here the Paddocks introduce themselves followed by a salute from the Wisconsin Society:
 
Former Salem town Chairman Diann Tesar and current town Chairman Linda Valentine said a few words at the ceremony.
Said Tesar: "David Paddock sacrificed so much to protect our freedom. I'm proud that David Paddock settled in Salem … We owe (veterans) a debt that can never be repaid. We need our veterans."
Said Valentine: "He (Paddock) fought for liberty … in a new concept in the world." Of all veterans, "We remember them all, we honor them all."
The marker, show in the photo above, was made possible through the efforts of Al Paddock of Paddock Lake, who worked to get it made and placed. It does not mark the site of David Paddock's grave, which is unknown, but thought to be in the cemetery.
"It's a wonderful honor," Richard Paddock, of Paddock Lake, said at the end of the ceremony, which drew a crowd of about 40 people.