Aerial spraying to control destructive gypsy moths is scheduled  to take place Friday, including in some areas of Western Kenosha County.
Gypsy moth caterpillars are a destructive pest that feeds on the leaves of many species of trees and shrubs in Wisconsin, the Department of Natural Resources says.
The planes used for the spraying are yellow and will fly just above the tree tops in a sweeping pattern making several passes over the spray area.
During the actual spraying, people may want to stay inside. While the spray is a natural bacteria harmful to the caterpillars — not humans or other animals – , the concentration will cause one to smell like stale beer if it gets on clothes, etc, said David Cox, Twin lakes village administrator. Residents  may want to close windows as well.
In Twin Lakes, spraying will take place west of East Lake Shore Drive between the bend south of Walnut and Cobblestone Court.
A representative of the village will be in the area that morning to discuss issues with anyone who has questions, Cox said.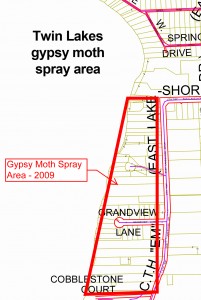 Other areas to be sprayed in Western Kenosha County are:
37  acres north of Lily Lake in Wheatland.
20 acres on the east side of Highway B just south of Highway K in Salem.
226 acres in southeastern Bristol.