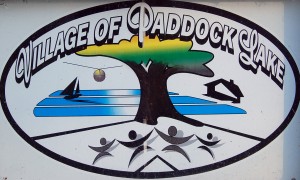 A couple of initiatives of new Paddock Lake Village President Marlene Goodson have run into apparent dead ends.
The often routine measures of appointing a trustee to a vacant seat and setting committee assignments were the points of contention.
Goodson, at Wednesday's Village Board meeting, said she created a new list of committee chairmen and members, but decided not to bring it to the floor for a vote becuase she believed it would be voted down or perhaps even die for lack of a second.
"I have changed (assignments) around …" Goodson said. "I do have that right."
With no committee appointments, village attorney Jeffrey Davison explained the Village Board will act on committee matters as a committee of the whole, where all board members attend. Historically, the board has had committees that tackled areas such as public works or parks that had only two official board members.
The appointment of a trustee to fill the seat Goodson vacated to take the president's seat ran up against a similar obstacle. Goodson said she had a replacement in mind, but some trustees wanted an opportunity to interview potential appointees.
State statutes say the president makes the appointment, but it is not unusual for some sort of  interview process to take place.
Instead of appointing someone, Goodson said she will now leave the seat open until it can be filled by election.
Trustee Joe Riesselmann expressed hope that the issues would be worked through.
"It's a matter of communication," Riesselmann said. "It will be solved."