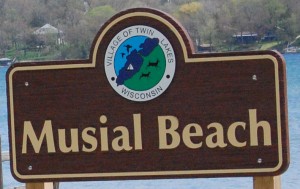 If you are used to putting your boat or personal water craft into Lake Elizabeth at the Musial Road launch, you might want to start looking for a new favorite spot.
The village, at the request of the Lake Steering Council and the village Park Commission, is considering prohibiting trailer mounted, drive-in launches at the site.
Under the change being considered, walk-in access would still be allowed. Posts would be installed to deny drive-in launching from trailers, but would be removable so fire department vehicles could access the lake there to pump water.
Many of the trustees seemed to agree that the launch is less than optimum for launching a sizable boat. The launch area is not paved and it extends far out into the lake without gaining much depth. Vehicles launching a boat there have to back far out farther into the lake than is typical.
Vehicles that have launched boats parking along the road is a big concern for residents of the area. There is no parking allowed along Musial Road, yet there often are vehicles and trailers parked along the road.
"I think (the change) would cut down on people who park down there that shouldn't be," Trustee Sharon Bower said at a Village Board meeting last week.
Village President Howard Skinner pointed out that making such a change, no matter how well advised, likely would spark objection from those used to using the launch — including neighborhood residents.
Trustee Kevin Fitzgerald said if the launch is closed, he would like to see it be available for the removal and placement of shore stations, perhaps with a permit.
The Musial launch does not have a launch fee box because it is not improved. The village last year opened a new launch at the former Mad Dan's site, known as the Lake Elizabeth Marina,  that does require a launch fee. Village administrator David Cox said another reason to close the Musial site could be to maximize use of the marina launch.
Skinner said more information from marina operators and the Steering Committee should be sought before the matter comes back before the Village Board.
You can use the Google Streetview window below to check out the amount of room available for parking along Musial Road near the launch.