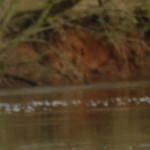 The Fox River moved below flood stage early Saturday morning. As of 11:15 a.m. it was at 9.93 feet; flood stage is 10 feet.
The National Weather Service forecast calls for the river to slip below the action state of 9 feet by Tuesday evening.
Rain also seems to be out of the forecast for the next few days. It might return Tuesday night to continue through Wednesday.