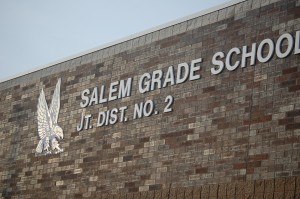 The resident selected to replace Patricia Merrill on the Salem School Board will have to run for election in April to retain the seat.
Merrill, the current board president who was re-elected to a board post in April, resigned Thursday night at a special board meeting. The main business of the meeting was to finalize lay off notices made in February. A tax levy referendum — the last in a series of four tries since last year — failed Tuesday, prompting the need for the cuts of all extracurricular activities and 16 staffers.
To replace a resigned member, district policy calls for the board to seek letters of interest  from people interested in filling the vacancy, explained district administrator David Milz. The letters can be addressed to the board or to Milz.
The board may interview candidates, Milz said, and the appointment will be made by a majority vote of the existing members.
The person who replaces Merrill will become part of the upcoming spring election process. The seats held by Larry Kamin and Peggy Aull also will be up at that time.
Board reorganization, including naming a new president, will occur later this month, Milz said.