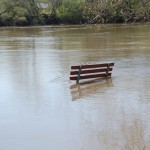 The rain has started back up today after a break Wednesday. But the National Weather Service says the Fox River is still — slowly — receding.
After reaching a peak of 12.82 feet Wednesday morning, the river is at 12.52 feet at the New Munster measuring station.
The rain is still supposed to end tonight and stay away for the weekend.