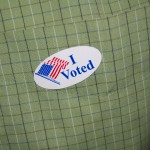 It's hard to believe residents of the Salem School District might forget today is the day to vote on the tax levy referendum, what with all the mailings and even just the chatter you hear these days amongst residents.
But a reminder never hurts. So here it is. Vote today; the polls are open from 7 a.m. to 8 p.m.
The referendum seeks approval from voters for the school district to exceed its revenue limit by $1.6 million for three years starting next school year.
Three recent previous attempts at passing a tax levy referendum were unsuccessful.