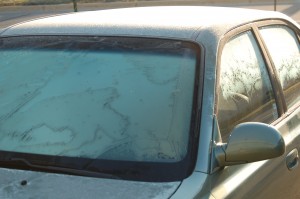 Nothing says Easter morning like frost on the windshield!
But don't despair. Temps are going to rise today, says the National Weather Service: 
"Today, sunny, with a high near 53. East wind around 10 mph. Tonight, Increasing clouds, with a low around 36. East wind between 10 and 15 mph."
Then it could be rainy and cooler again Monday (high 44). But hang in there until Wednesday, when temps are predicted to be near 60 and stay around there for a while.