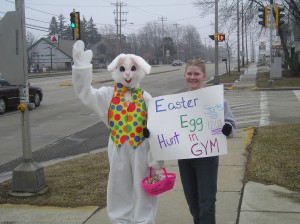 'Tis the season for Easter egg hunts in Western Kenosha County. Luckily there's one within easy reach of you no matter where you live west of the I.
Take my advice: Don't arrive at these events at the last minute. Seemingly a minute is all that is need to clear the field of all eggs once the anxious youngsters are set loose.
This Saturday the first hunt is in Silver Lake, where the fun starts at 11 a.m. at Schmafeldt Park, Railroad Street and east Wisconsin Avenue,  just a little west of where Cogswell Drive crosses the tracks. If the event is rained out, it will take place same time and same place April 11.
Also this Saturday, the Westosha Kiwanis host their annual hunt at Salem Grade School, Highways 83 and AH. Line-up begins at 11:45 and the whistle to hit the field goes off at noon on the dot. This hunt will be divided into three age groups: 2 to 4 years olds, 5 to 7 year olds and 8 to 10 year olds. Check your eggs to see if you won the grand prize. There's one for each age group. In the past, this hunt has taken place outside, unless weather forces it indoors.
Then the next Saturday, April 11, there will be another egg hunt, this time at the Twin Lakes Country Club. The hunt begins at 11 a.m. sharp.
Better go dust off that Easter basket now.
(Did we miss any? Drop us a line and we'll post info about any other hunts too.)