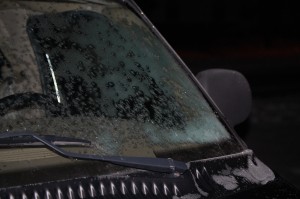 In the  interest of bringing you down-to-earth practical news, we introduce Windshield Watch, a report on whether you might have to get out the window scrapper in the morning. Today I found scattered frost on the front windshield, nothing on the back and sides. Might even be able to just windshield washer that stuff off. With us launching westofthei.com at the tail end of March, first of April, we didn't really think we'd be able to introduce this feature until next fall but, hey, we were wrong. 
As far as weather for the rest of the day, the National Weather Service is calling for today to be "mostly sunny, with a high near 42. Calm wind becoming east between 10 and 15 mph." Tonight: "A 50 percent chance of rain after 1 a.m. Increasing clouds, with a low around 34. East wind between 10 and 15 mph. New rainfall amounts of less than a tenth of an inch possible." 100 percent chance of rain Tuesday.
Apparently no flood warning for the Fox River yet, but with all that rain coming ….