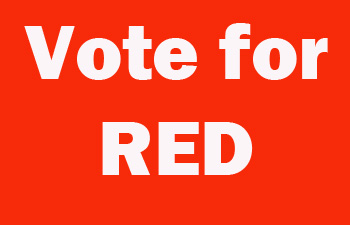 Are you seeing red over the upcoming election? No, I don't mean being worked up about any particular issue. I'm talking campaign signs here.
Seems like in Western Kenosha County the color red is the first pick for anyone making a political sign this election season. Those using the hue as their dominant color include one of the candidates for Paddock Lake village president, one of the Salem municipal judge candidates and one of the circuit court branch 8 judge candidates.
These folks all probably thought red was an eye-grabbing color, but the effect is certainly lost when so many signs are of nearly the same tint of red with white letters.
You know, with the economy the way it is, who would have thought there would be enough red ink left to make signs?