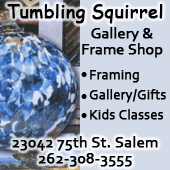 Note: Tumbling Squirrel is a westofthei.com sponsor. — DH
Tumbling Squirrel Gallery & Frame Shop will host an open house on Saturday,  Dec. 8 from 9 a.m. to 5 p.m.
Owner Candy Ruffolo invites you to stop by at 23042 75th St. (Highway 50), Salem and see what Tumbling Squirrel offers, including:
Framing — Excellent matting and framing at reasonable prices.
Gallery/Gifts — Original art for sale.
Kids Classes — Ask about their Kids Party packages.
For your valuable pieces of art, Candy offers conservation backing board, paper, mats and glass. The entire process protects the art or photo from airborne pollutants, acids, and 97% of UV damage.
A few artists from the area will be featured at the open house, including:
Gail Ketterhagen – granite etching and liquid acrylics
Steven Gallagher – scrap metal tables and art

Al Prondzinski – Rock painting

Brian Wolf – Nature Photography

Joanna Carlberg – Digital Images
Hours for Tumbling Squirrel are: Monday, Tuesday, Wednesday and Friday from 9 a.m. to 5 p.m.; Thursday from 9 a.m. to noon; Saturday and evenings by appointment. Phone is 262-308-3555.