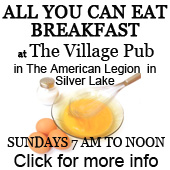 Note: The Village Pub is a westofthei.com sponsor. — DH
The Village Pub, located in the American Legion Building in Silver Lake, is now offering an all you can eat breakfast for $8.95.
The breakfast will be served every Sunday from 7 a.m. to noon.
Included in the all you can eat breakfast are:
Scrambled eggs.
Sausage.
Bacon.
Hash browns.
French Toast.
Pancakes.
Biscuits and gravy.
Muffins.
Seasonal fruit.
The Village Pub also continues to offer its famous fish fry on Fridays. New is an early bird special for $1 off the regular price of the all you can eat fish fry from 3 to 4:30 p.m. Serving for the fish fry continues until 9 p.m.
Full service at the Village Pub begins at 10 a.m. on weekdays and 5 a.m. on Saturday and Sundays.
Looking to host a party? The hall is available for rent. In-house catering also available/ Book your party now by calling 262-889-8255.
The Village Pub at the American Legion Building is located at 307 N Cogswell Dr, Silver Lake, WI.