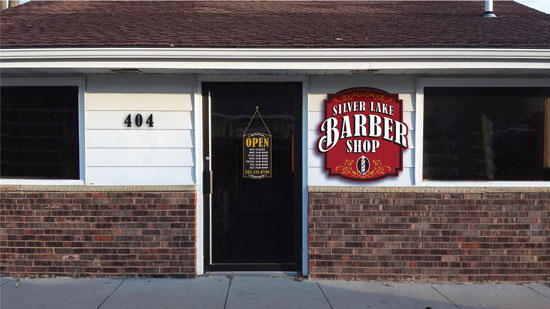 Note: Silver Lake Barbershop is a westofthei.com sponsor. — DH
Silver Lake Barbershop, 404 E. Lake St., offers a classic haircuts  and community in Downtown Silver Lake.
Veteran haircare professionals Mike Stancato and Richard "Dick" Flatley can do just about anything you need to get your hair looking its best. With over 70 years of combined experience, they're prepared to provide you with a custom haircut at an unbeatable price.
Mike and Dick provide a unique balance between old fashion barbering and modern hair cutting technique.
A haircut, all for only $12, cash, includes:
Precision cut.
Shampoo.
Condition.
Straight Razor Neck Shave.
Hot Towel.
Services for women include:
Full Service Cutting & Styling.
Coloring
Services for men include:
Beard & Mustache Shaping.
Hot Towel Shave.
Coloring.
Roffler Razor Cutting.
Straight Razor Face Shaves.
$10 touch up (neck shave & trim around ears).
Make an appointment at 262-237-1447.
Mike: Wednesday and Friday (2 to 6 p.m.) Saturday (10:30 a.m. to 1:30 p.m.).
Dick: Monday (9 a.m. to 4 p.m.) Tuesday and Thursday (9 a.m. to 5 p.m.).
Walk-ins also welcome (appointments take priority).
Visit Silver Lake Barbershop for the friendliest and most professional barber haircut at a price that can't be beat.