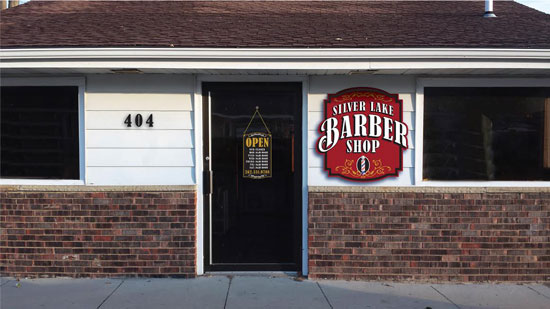 Note: Silver Lake Barber Shop is a westofthei.com sponsor. — DH
Dick Flatley of Silver Lake Barber Shop can bring his decades of experience to give you the hair style you have always wanted, and help keep you looking good.
The shop is located at 404 E Lake Street in downtown Silver Lake. Hours are:
Tuesday: 9 a.m.-5 p.m.
Thursday: 9 a.m.-5 p.m.
Saturday: 7:30  a.m.-noon.
Dick offers 16 different styles. He uses flat razor hair cutting, which he feels is a superior method.
"We're able to make their hair more manageable," Flatley said.
Each new customer starts with a consultation, where the customer can talk about what they would like and Flately suggests how to make that happen.
Additional services offered are:
Hair coloring, to freshen up and sharpen your look.
Facial shaves.
Walk-ins are welcome, but appointments are always served first. Make an appointment at 262-237-1447.