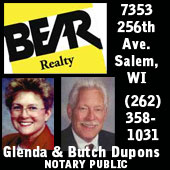 We know many of you look forward to checking out the weekly listings of open houses being hosted each weekend by Bear Realty's Glenda and Butch Dupons.
Open houses are not allowed under current COVID-19 curbing regulations, but that doesn't mean Glenda and Butch Dupons aren't working.
"Our status is 'essential service' business, open 7 days a week complying with CDC regulations," Glenda said.