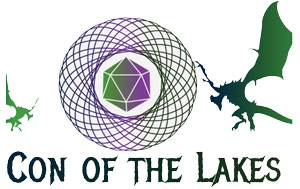 Note: Con of the Lakes 2018 is a westofthei.com sponsor. This is a paid announcement. — DH
Con of the Lakes 2018 on June 23 in Twin Lakes will give gaming fans a chance to indulge their favorite pastime and help raise money for a good cause at the same time.
Con of the Lakes was founded in 2017 to do two of our best things in the world: Gaming and giving back to the community. In 2018, Con of the Lakes will be donating the proceeds to the Crohn's and Colitis Foundation. Con founder Chris Brown was diagnosed with Crohn's disease in 2017 and is using the money to help funding on the cause, treatment and possible cure or prevention of IBDs. Benefactors of Con of the Lakes in future years will be charities that will speak to the gaming community, local community or a national organization based on input from the attendees.
Besides a full schedule of games, there also will be food for purchase and raffles.
Tickets for the event will be $20 per person. Tickets are non-refundable. Tickets will be limited to 110 attendees.
The end of the night Werewolf tournament will cost $5 to enter; the winning team (either villagers or werewolves) will win a $50 gift certificate for local game stores.